Speech & Language software coaching
Caregivers thrilled with Coaching
I wanted to say 'thank you' to you personally for helping both my husband and myself with this program of yours. When my husband went back to see his doctor, his doctor was shocked at how well my husband was talking and only expects to see improvements as time goes by.
Debbie Gunn
I know it contributes a great deal to his quality of life that he can do this work with you!

Kriste Carlson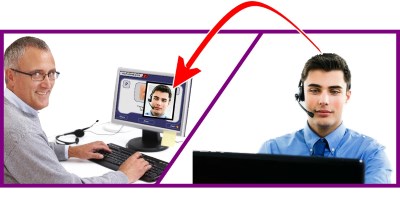 How Coaching Works
One of our therapy software experts (usually Clay) will:
View your screen remotely so we can see what you see.
Determine which programs are most appropriate.
If needed, install the software for you.
Show you how to use those programs for maximum effect.
He'll view those speech therapy program remotely (as if he were standing next to you) and demonstrate them.
Make certain you can use the programs.
(We aim for the patient using the software independently )
Get your coaching
Subscribe to the Silver or Gold monthly plan or if you have an iPad, Mac, Android or other non-windows computer, you can subscribe to MoreSpeech.com. View a comparison of the two.
Already Subscribed? Click here to book coaching

You'll get a link to schedule your coaching session at your convenience.