COMPUTER-ASSISTED SPEECH-LANGUAGE THERAPY:
SNAKE OIL OR PANACEA?
Terri Nichols, MS, CCC-SLP, Providence Portland Medical Center
This white paper was prepared for the 1999 WSHA and ASHA conferences.
[Free trials are available for all the programs described in this article. Click here to download them..]
BENEFITS OF TECHNOLOGY
Builds self-esteem
Allows independent practice with objective feedback
Conserves health insurance benefits
Allows unlimited drill on specific levels
Simultaneous multi-sensory input
Compensates for physical deficits
Technology use can be an excellent functional goal in itself
BARRIERS TO TECHNOLOGY
Fear and intimidation
Limited access/space
Physical limitations
Past experience with bad technology
Overwhelming nature of the technology explosion
Perception of limited time and money
LIMITS OF TECHNOLOGY
Bugs! Or: "That's not a bug – that's a feature"
User has to be able to learn the program
Difficult to measure discourse, sentence formulation, etc.
Can't customize the cueing strategies – have to take what you get
CLINICALLY SPECIALIZED VS. COMMERCIAL SOFTWARE
Age-appropriateness
Visual/auditory complexity
Motoric requirements
Cost
INTRODUCING SOFTWARE
Introducing the task
Marking the keyboard
Setting the difficulty level
Training caregivers
Assessing and remediating barriers
INTRODUCING COMPUTERIZED THERAPY FOR THE FIRST TIME
Let's face it…
Computers can be intimidating, even if you haven't had a stroke or brain injury. Here are a few tips on making that first experience a positive and rewarding one, for all involved.
Mark important keys on the keyboard (such as the space bar and enter key) with colored tape, to make them easy to spot. If you don't have colored tape handy, a few magic markers and some masking tape will do.
If necessary, purchase commercially-available large-type keyboard stickers (ZoomCaps from Don Johnston, $14.95 for upper case and $19.95 for lower case, either white on black or black on beige).
Introduce the task as if it were a pencil and paper task first, pointing to items on the screen, and encouraging the client to point to the screen as well. Be sure they grasp the language aspect of the task before you teach the computer aspect of the task.
Demonstrate the computer task several times
Provide hand-over-hand assistance for the first few items.
Step back and provide supportive encouragement while you let the client try a few on their own.
If the client gets a wrong answer, positively reinforce that they are using the computer correctly.
Set the task options for a difficulty level which results in 65-90% accuracy.
CASE PRESENTATION
PRODUCT DEMOS – SEE ATTACHED INFORMATION SHEETS FOR PROGRAM OPTIONS
Aphasia Tutor 1&2
Aphasia Tutor 3&4
Sights & Sounds
Direction Following Out Loud
Categorization and Relationships
Traffic Sign Tutor
FreeForm
Speech Pacer
Rehab Resources CD-Rom
BUILDING A RESOURCE FILE FOR YOUR PATIENTS
How involved do you want to be?
What to look for in software
Contacting companies/getting brochures
CASE STUDY: APHASIA SOFTWARE
Patient is a 39 year old male, s/p left CVA 3/26/97, with severe aphasia crossing all modalities. He had no motoric deficits from the CVA, so was discharged directly from acute care to home with his parents. Pre-morbidly, he was a computer programmer.
Initial eval data:
AUDITORY COMPREHENSION
Single word comprehension/picture identification: 75%
Yes/No questions: 65%
1-step instructions: 0%
VERBAL EXPRESSION:
Spontaneous Naming: 0%
Sentence Completion: 0%
Word repetition: 90%
READING COMPREHENSION:
Picture-word matching: 96%
Sentence Comprehension: 70%
WRITTEN LANGUAGE:
Single word naming: 0%
Copying: 100%
Signature: functional
Outpatient treatment commenced at a frequency of twice per week, for 1-hour sessions, on 5/1/97. Because the patient was computer literate, and was still able to install software and use familiar Windows-based programs, focus in the clinic was on verbal expression and auditory comprehension, and the patient independently targeted written naming and reading skills at home. He used Aphasia Tutor 1 and Aphasia Tutor 2 from Bungalow Software. He brought printouts of his performance data to each treatment session, which were used to determine when he should progress to the next level. He was encouraged to proceed quickly to the fill-in levels, and resort to multiple choice only after 2 failed attempts at typing the words. During a re-evaluation 7/26/97 (after 20 treatment sessions, and 2 months of home computer practice with aphasia software), the patient indicated with gesture and verbalization that he noticed that writing words he had practiced on the computer was far easier than words he had not practiced. Overall, he had made the following progress:
AUDITORY COMPREHENSION INITIAL PROGRESS
Single word comprehension: 75% 100%
Yes/No questions: 65% 80%
1-step instructions: 0% 90%
VERBAL EXPRESSION:
Spontaneous Naming: 0% 40%
Sentence Completion: 0% 70%
Word repetition: 90% 90%
READING COMPREHENSION:
Picture-word matching: 96% 100%
Sentence Comprehension: 70% 100%
WRITTEN LANGUAGE: INITIAL PROGRESS PROGRESS
UNPRACTICED COMPUTER-
PRACTICED
Single words: nouns: 0% 40% 100%
Single words: verbs 0% 25% 80%
Written sentence completion: 0% 20% 100%
The Written Language testing was done with pencil and paper, rather than typing on the computer.
The patient continued to receive therapy services for 15 months, at decreasing frequency, for a total of 54 visits. He currently converses primarily in single words and phrases, and occasional sentences. He is reading novels, and has learned a new programming language. He was re-hired by his former employer as a contract programmer for 3 months, and vocational rehabilitation paid for a consultation visit to his employer for recommendations to maximize communication.
SETUP FOR SUCCESS – PROGRAM OPTIONS
APHASIA TUTOR 1 & 2
All tasks presented as multiple choice or fill-in
Multiple choice uses mouse or keyboard (2-key operation)
In fill-in format, program defaults to multiple choice after 2 incorrect answers, reveals answer after 2 incorrect multiple choice responses
Automatically shows correct/missing letters if the user types an answer which is close to the correct answer
In fill-in format, can select a "hint" option:
Always show the first letter, and total number of letters
Display hint only when the user clicks on "hint"
Can change the hint "placeholder"
To change the hint options, select:
Options
Hints ®
No hints
Show hint button (default)
Always give Hint (first letter of word)
To change the Hint placeholder, select:
Options
Change hint placeholder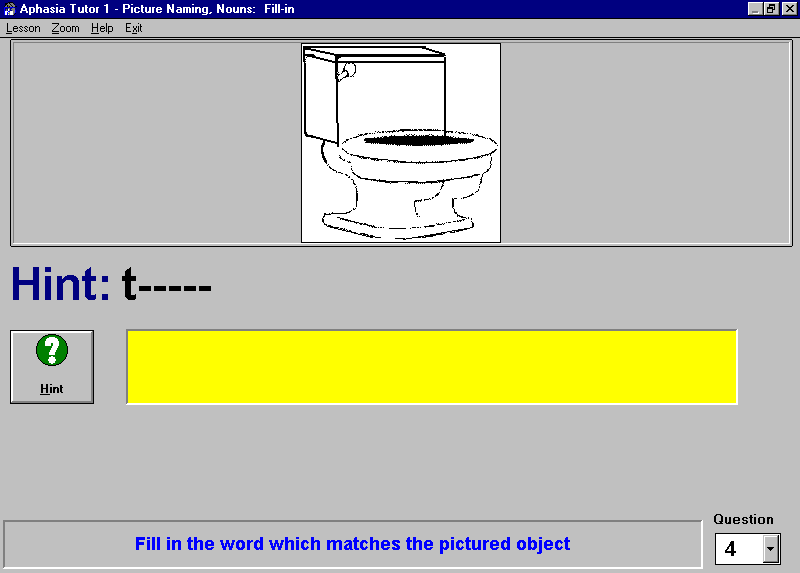 APHASIA TUTOR 3 & 4:
Multiple choice with keyboard or mouse
Highlights the pertinent passage sections in red after an incorrect response
Reveals the correct answer after 2 incorrect responses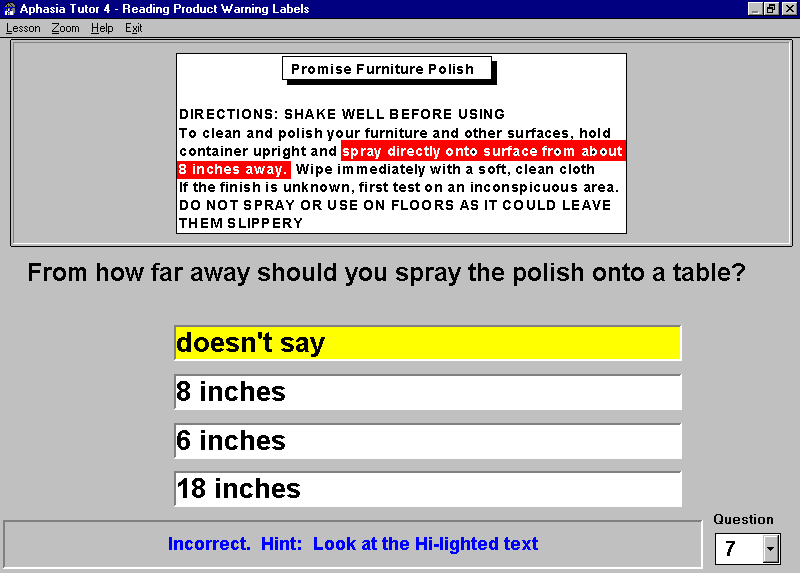 SIGHTS AND SOUNDS
Set the program to work on:
Word Repetition
Confrontation Naming
Oral Reading
Auditory Discrimination
Family names, vocationally-specific vocabulary (by creating custom files)
To set the specific prompts to display, choose:

Automatically Display…

Sound (play model)

Playback model

Text

Picture

DIRECTION FOLLOWING PLUS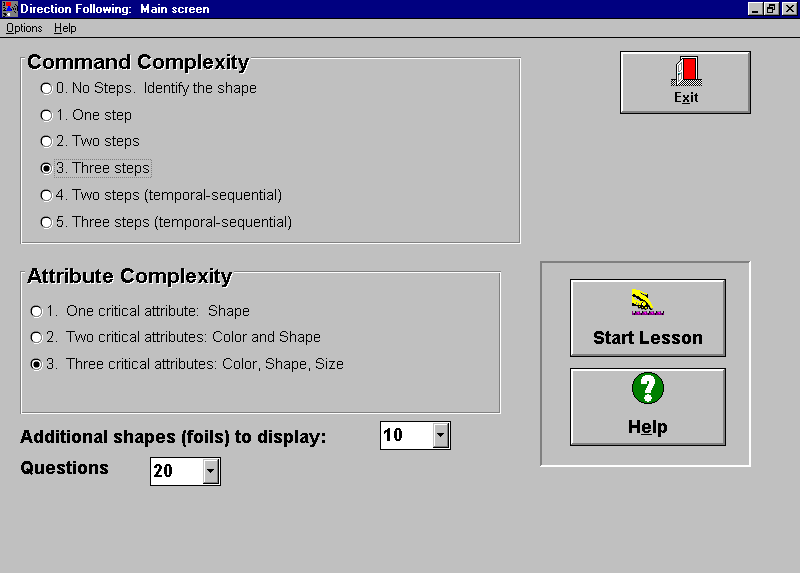 CATEGORIZATION AND WORD RELATIONSHIPS
Works on:
Categorization
Deductive Reasoning
Memory
Nearly unlimited therapy
TRAFFIC SIGN TUTOR
Works on:
Traffic sign recognition
Problem-solving with driving situations
FREEFORM
Print worksheets for home practice
Preview worksheets before printing
Change font size
List your clinic and phone number on the bottom of every page
SPEECH PACER
Use for motor speech and voice patients, as well as for visual tracking practice
Train independent pacing strategies
Use for biofeedback for breath support and speech rate
Input custom files
Change phrasing
To use your own files:

Create or save a file with the .txt filename extension

Mark phrase breaks with the ~ character (i.e., She went to the store~ to buy some groceries)

Within Speech Pacer, choose:
Open File
Select the file you have saved with the .txt extension
Bungalow Trial CD

Test-drive all the programs on this website.
Lets you try out all the programs on this website.

Saves you further S & H
If you purchase a program on the CD, we can can immediately give you a code to unlock the program. You don't have to wait and you save any further S & H.

This offer does not apply to Speech Sounds On Cue. The full version of that program must be mailed separately if you purchase it. The trial of that program is included on the Bungalow Sampler.

Try over 1 million exercises!
in over 20 programs
---